High-Performance Waterproof Flooring in Jackson, TN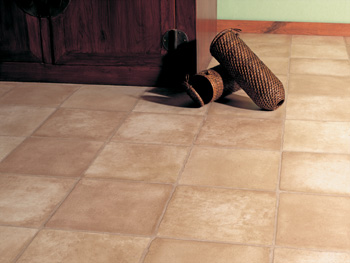 Water is the enemy of flooring, unless that surface consists of waterproof flooring in Jackson, TN. Whether you're a homeowner, contractor, or installation specialist, the merits of high-performance floor coverings that resist spills, humidity, and moisture add a whole other level of protection. To find waterproof vinyl, carpeting, or laminate for your home remodel, turn to The Floor Trader of Jackson.
Our warehouse has a wonderful selection of waterproof floors of varying types, colors, styles, and patterns. Talk to one of our flooring experts about the advantages of this type of flooring and get recommendations for your project. Let us help you find budget-conscious flooring that is made to last. Choose from these brands:
COREtec - Waterproof Vinyl
Shaw - Waterproof Carpet & Vinyl
Mohawk - Waterproof Vinyl & Water-Resistant Carpeting
Downs - Waterproof Vinyl & Carpeting
Adding Another Level of Protection
In any setting, flooring surfaces need to be strong. After all, even the most elegant houses have people and perhaps pets walking over them on a regular basis. However, you can take your floor coverings to a whole new level by choosing surfaces that resist water. This important feature enhances versatility, durability, and quality.
For instance, waterproof carpet can go places regular carpeting cannot -- such as the bathroom or basement. The same versatility applies to waterproof laminate and vinyl because this type of flooring can be installed in most any room in a house.
Before waterproof flooring, spills reduced the working life of floors, and repeat spills resulted in the need for replacement. It also impacted the appeal of those older types of flooring because the wet spots caused permanent stains and damage. Now you don't have to worry about these issues when you choose water-resistant flooring.
Ask Our Experts to Help You Find Water-Resistant Flooring
When you want waterproof floors for a project you're working on, come into our warehouse to get advice from one of our flooring experts. Give our expert the details of your project and he or she can recommend types, brands, and styles of floor coverings.
Depending on the type of flooring and the manufacturing process, water resistance can result from a waterproof core, fibers that repel liquids, or a backing layer that doesn't allow water to penetrate.
Buy Beautiful & Affordable Waterproof Floors
One of the biggest benefits of waterproof flooring is adding protection without sacrificing beauty. Shaw, Mohawk, and Downs all make gorgeous carpeting that resists spills and stains. The same applies to our manufacturers who produce waterproof vinyl and laminate. These surfaces have all the appeal of wood or tile, but withstand wetness and humidity. And, you can purchase all of our floor coverings at budget prices in our warehouse.
---
Contact us today to find out about how our waterproof flooring works. We proudly serve homeowners, builders, contractors, and flooring installers from Jackson, Three Way, Spring Creek, White Fern, and Beech Bluff, Tennessee, and the surrounding areas.