The Beauty & Affordability of Hardwood Flooring in Jackson, TN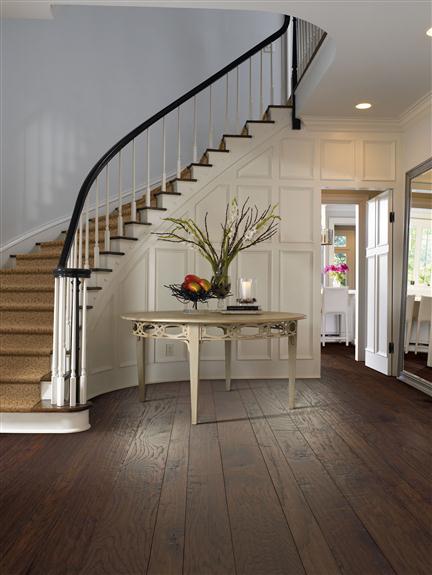 You may think you can't afford the luxury of hardwood flooring in Jackson, TN, for your remodeling project. Well, you can indulge without worrying about the cost when you shop at The Floor Trader of Jackson. This is because all of our floor coverings come with cheap price tags. That's cheap in price -- not in quality.
The reason our hardwood flooring prices are so low is because we operate as a warehouse. We buy our flooring in truckloads for reduced prices, and you benefit from the savings. Come into our warehouse to see an appealing selection of different types, brands, species, and finishes in elegant wood.
Deciding Between Solid & Engineered Wood
Whether you're a homeowner, builder, or flooring installer, you know that putting hardwood floors in a house boosts the appeal and value of that property. We've found that everyone loves this flooring option. And because you can get a great deal on wood floors at our outlet, price no longer becomes an obstacle.
There are two main choices when it comes to hardwood floors -- solid and engineered wood. When most people picture hardwood in their minds, they see the classic style found in stately old homes. This is solid hardwood, named that because the planks are milled from one board, so it's solid wood of the same species throughout. One of the main advantages of this option is longevity. This flooring can be finished and refinished several times over to extend its life span to 100 years.
The other main option in hardwood is engineered wood. This flooring consists of a veneer of your choice of wood species on the top with multiple layers of strong fiberboard underneath. The engineering process results in wood planks that are sturdy and versatile -- versatile because they can be installed in any room of a house as the planks don't react to water or humidity.
Suiting Your Style & Meeting Your Demands
Hardwood is both a design preference and lifestyle requirement. You may prefer wood because of its warmth and elegance, as well as the classic appeal it adds to a home remodel. And, you may demand wood because of its strength and durability. Whatever your reasons, rely on our flooring experts to help you choose the hardwood type, brand, and finish that best meets your needs. At our warehouse, you know the price is one that is competitive and affordable.
---
Contact us today for brand-name hardwood flooring at budget prices. We proudly serve homeowners, builders, contractors, and flooring installers from Jackson, Three Way, Spring Creek, White Fern, and Beech Bluff, Tennessee, and the surrounding areas.